Nutrition Services For Proton Therapy Services
---
At California Protons, every patient is offered nutrition support through weekly, one-on-one meetings with our Registered Dietitian. Through these meetings, dietary guidance is provided to optimize their treatment and help each patient feel their best both during and after treatment.
Through the Center's Nutrition Services, patients receive ongoing nutrition expertise to help them navigate their way through proton treatment focusing on side effects, nutritional needs and supporting the body during radiation. Additionally, long-term education regarding inflammation, disease and overall health are provided.
Kathryn Holly Mott, RD, ONC is a Registered Dietitian who specializes in oncology nutrition, with a background in psychology. Kathryn completed coursework in Nutrition at the University of Vermont, Northwestern University, Point Loma Nazarene University, Institute of Integrative Nutrition, and the Oncology Nutrition Institute.
Kathryn uses a progressive and integrative model of care, incorporating a number of factors into her health recommendations including food, exercise, stress reduction, relationships and more. She utilizes her vast knowledge of the latest in nutrition research to make specific recommendations based on cancer type, providing the most up-to-date nutrition information for each patient's individual needs.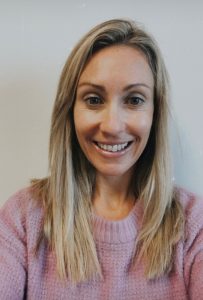 Kathryn Holly Mott, RD, ONC
Frequently Asked Questions About Proton Therapy Nutrition Services
---
IS THERE A COST FOR NUTRITION SERVICES?
There is no cost for Nutrition Services for our existing patients. At California Protons, we believe in a progressive and integrative model of care that incorporates additional resources that benefit our patients and their outcomes. Nutrition Services are provided as part of your comprehensive care.
HOW ARE THESE APPOINTMENTS ARRANGED?
Once your daily proton therapy treatments begin, our Registered Dietitian will meet with you once a week either in person or over the phone. These meetings will continue throughout the length of your treatment.
HOW DO PROTON THERAPY NUTRITION SUPPORT GROUPS WORK?
Nutrition Support Groups for patients and family members are held every two to three weeks in-person. Currently, due to COVID precautions, the number of people attending is limited, and they are held outside for safety. This is an excellent opportunity to expand your knowledge on a particular topic, meet new people and gain support.